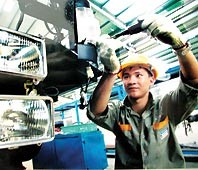 A Vinamotor's worker working at an automobile factory.
Vietnam Automobile Industry Corp. (Vinamotor), one of five State-owned corporations allowed to hire a general director directly, has had its proposed salary ranges for the position approved by the Ministry of Transport.
The base monthly salary will be US$1,875 to US$2,500 for a Vietnamese chief executive and US$3,125 to US$3,750 for a CEO from abroad.
Among the other criteria for the position, an applicant must have at least three years' experience running an auto company with annual revenue exceeding US$62.5 million.
And a foreign applicant should speak passable Vietnamese, whereas a Vietnamese applicant should be able to speak a foreign language in widespread use.
Every applicant must post a surety: US$312,500 if a foreigner and US$62,500 if Vietnamese. In addition, applicants must have a working creed and defend it before an assessing board.
The other State concerns allowed to hire a chief executive on their own are Vietnam Shipbuilding Industry Corp. (Vinashin), Vietnam Construction Glass and Ceramics Corp. (Viglacera), Vietnam Electrical Equipment Corp. and the Red River Construction Corporation.