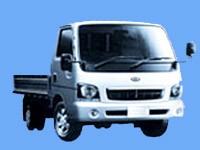 One kind of the Hyundai trucks
The Viet Nam Automobile General Company (Vinamotor) officially opened the Dong Vang 1 Automobile Factory in Dong Vang Automobile Industrial Zone, Viet Yen District, Bac Giang Province on March 13, 2006.
The factory is built on an area of 31 hectares with the investment of VND240 billion, and the output capacity is 8,000 trucks and buses per year.
Dong Vang 1 is an important project with the largest investment of Vinamotor. It is well equipped with modern technology transferred by Korea's Hyundai Corporation. The main products of the factory are Hyundai County bus (25 – 29 seats) and Hyundai Mighty truck (2.5 – 3.5 tons weight).
In quarter 2 and 3, 2006, the factory will localize the production of the roof of the County bus and the Mighty truck, next in line will be the engine, gear box, front and rear suspension and rear mirror.
The other parts such as spring, interior equipments and body will be outsourced to other factories of Vinamotor to reduce the cost in the local market and pave the way for exporting to foreign markets.
On the same day, Hyundai and Vinamotor signed the agreement on technology transfer of Hyundai's production.