Prime Minister Nguyen Tan Dung Wednesday requested the Vietnam Shipbuilding Corporation (Vinashin) to focus investments on its main production, avoid spreading investment in multiple sectors.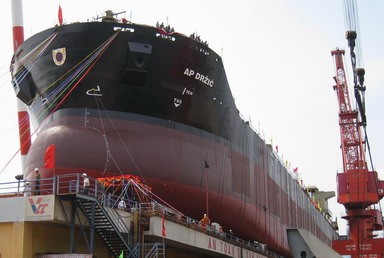 A ship, weighing 53,000 DWT, built by Vinashin
Mr. Dung asked the corporation to strengthen its organizational mechanisms and operations by reviewing its development strategies and short and long term plans. He emphasized that the corporation should not invest in many different fields but focus on highly effective activities.

He requested the corporation complete its financial regulations immediately and submit them to the government for consideration.

He also asked relevant authorities to consider Vinashin's application for raising capital and allow it to do so, if possible, to facilitate further development.

At present, there is an overlap in management between the parent company and subsidiaries due to the fact that the corporation has not yet issued financial regulations.

This not only affects Vinashin's operations but also its internal management and supervision.

At the meeting, representatives of relevant ministries and agencies said that Vinashin should review its investment projects and control the source of investment capital. The corporation was also requested to mainly focus investments on shipbuilding for exports to avoid risks.

Vinashin's reports showed that despite the adverse impact of the global financial crisis, last year the corporation achieved a total revenue of over VND36 trillion ($2 billion) in 2008, an increase of 38.45 percent over the previous year, of which, industrial production reached VND 26.56 trillion ($1.485 billion), accounting for 72 percent of profits and transportation VND 5.46 trillion ($312 million), accounting for 15 percent of revenue.

Total turnover was VND32.5 trillion ($1.8 billion), a rise of 47 percent compared with the previous year.

In 2009, the corporation will continue its strategic plan to build and export ships. By the end of the year, Vinashin will build three million tons of ships, worth $1 billion, to supply the maritime transport, petroleum and cement industries.

The corporation said that such a strategic plan will pave the way for it to build around 5 million tons of ships, worth over $2 billion, for export by the end of 2015.
The corporation signed an agreement with Malaysia's budget airline, AirAsia to form a low priced airline named Vina AirAsia in 2007 and had a plan to invest in a power plant which were criticized by the public and the government rejected the two plans.