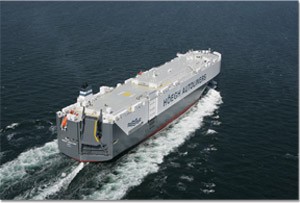 A Höegh Autoliners's ship
The Viet Nam Shipbuilding Industry Corporation (Vinashin) will build 8 auto carriers for the Höegh Autoliners of Norway, according to their US$536 million contract, signed yesterday.
The carriers, which can carry 6,900 cars, will be installed with cutting-edge devices, living up the latest international maritime conventions.
The longest carrier will be nearly 200 meters in length, 32 meters in height and sail at a speed of 20.5 sea miles per hour.
Finland-basde Delta Marin will be responsible for designing the vessels and the building will be checked and assessed by Norway-based DNV Register.
The first carrier is scheduled for its completion in December, 2009 and the others 6 months later.