Vietnam National Textile and Garment Group (Vinatex) and Vietnam Airlines (VNA) are expected to equitize this year, according to the Party Committee of the Central Business Sector in Hanoi on April 2.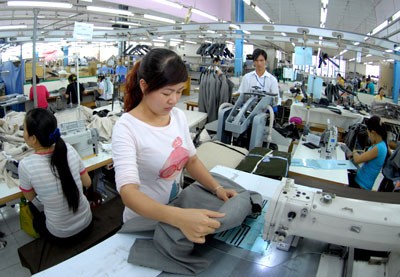 Garment and textile exports exceed US$ 20 billion in 2013 (Photo: SGGP)
The report was made at a conference to restructure state-owned business by 2015. It was attended by Deputy Prime Minister Vu Van Ninh and Head of the Party Central Committee's Economic Commission Vuong Dinh Hue.
VNA is waiting for approval from authorized agencies for their completed evaluation reports, said VNA Director General Pham Ngoc Minh. They are expected to launch an Initial Public Offering (IPO) in September 2014.
The Party Committee of the Central Business Sector comprises of 32 groups, corporations and banks. Twenty eight of them have devised restructure plans with 24 approved.
The approved projects will restructure the enterprises to have parent companies and subsidiaries. The state will hold the chartered capital of 15 parent companies. The remaining parent companies will be equitized.
Three of them have equitized including Bao Viet Group, Vietnam National Petroleum Group (Petrolimex) and Vietnam Steel Corporation.
Vinatex and Vietnam Airlines will equitize in 2014.
Vietnam National Shipping Lines (Vinalines), Song Da Corporation, Housing and Urban Development Corporation and Vietnam Cement Industry Corporation will go through equitization next year.
State capital withdrawal has been carried out in 167 businesses, a total of VND 7.8 trillion (US$371 million) for the State Budget. State capital will continue to be withdrawn from other 472 companies by 2015.