Most foreign businesses affected by the recent anti-China rioting resumed operations on May 19.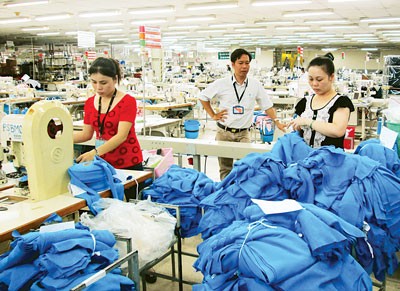 Esquel Garment Manufacturing Company in Vsip 1 Industrial Zone prepares to resume production in Binh Duong (Photo: SGGP)
Le Manh Ha, deputy chairman of the Ho Chi Minh City people's committee, visited Taiwanese and Chinese companies at the Vinh Loc Industrial Zone and Tan Thuan Export Processing Zone, where all have restarted work.
Officials from some ministries and the Vietnam Chamber of Commerce and Industry (VCCI) met with foreign entrepreneurs based in Vietnam the same day.
Vu Tien Loc, the VCCI chairman, said 80-90 percent of affected companies have resumed work with assistance from local authorities.
The Government has brought violence related to anti-China protests under control and showed determination to ensure the safety of foreign companies, he said, adding law breakers would be punished. 
Over 80 percent of violence-hit companies reopened in Binh Duong Province on May 19, Tran Van Lieu, head of the province's industrial zones management, said.
At the Vietnam Singapore Industrial Park, 269 out of 326 companies damaged in the riots are back at work.
Tran Van Nam, deputy chairman of the Binh Duong Province people's committee, said there are regular patrols by law enforcement authorities to protect the properties of those who have yet to resume work.
Authorities are working to prevent provocateurs from inciting workers into further violence against foreign companies and looting, he said.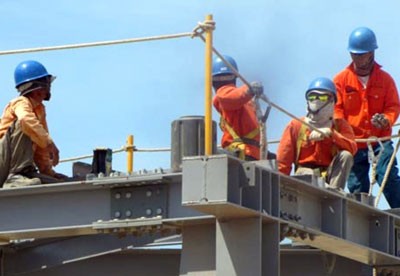 Workers turn back to work on the construction site of Formosa project, Vung Ang Economic Zone, Ky Anh District, Ha Tinh Province (Photo: SGGP)
District authorities and the industrial zones management are coordinating with businesses to assess their losses and are expected to send a report to the province people's committee by the end of this week.
Provincial authorities have also visited and promised to help businesses resume operations.
Workers who have lost their jobs due to the violence would get unemployment and social allowances, Nguyen Phung Trung, deputy director of the Department of Labour, Invalids and Social Affairs, said.
The department has also instructed its divisions and job centers to find them new jobs.

Related article:
Taiwanese firm hit by anti-China violence resumes work