Viet Nam will have to import pork, beef and poultry at the end of this year if the animal breeding and feed processing industry fails to solve its current predicaments soon, Le Ba Lich, chairman of the Viet Nam Animal Feed Association has warned.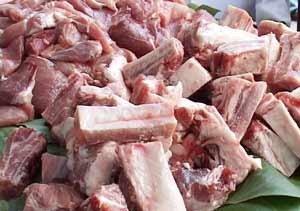 Pork is an item that Viet Nam considers importing
He said many pig farmers, especially in southern provinces, quit the biz when feed prices shot up.
The current price of pig feed is VND8,500 (US$0.5 USD) per kilogram. To produce one kilogram of pork 2.6 kilogram of feed are needed costing VND22,100 VND ($1.3).
Meanwhile, a kg of live pig goes for VND32,000-34,000 ($1.9-2) in the south and VND28,000-30,000 ($1.7-1.8) in the north.
With capital used to buy breeding animals and animal feed coming from loans with 20 percent interest, breeders cannot afford to continue their line of work, Lich said.
On top of farmers moving on, blue ear disease and bird flu also contributed to the current meat shortage.
Pork accounts for 80 percent of the country's meat consumption, chicken 11-12 percent, and beef 3-4 percent.
Local meat consumption is especially high during the Christmas, New Year, and Lunar New Year holidays, according to Lich.
To avoid meat shortages and encourage pig farming, Lich said, the association plans to invest in production and imports of raw materials for producing animal feed.
The association asked the Ministry of Finance to eliminate the value added tax for raw produce, banks to decrease interest rates and the Ministry of Industry and Trade to reorganize distribution systems.