Viet Nam will send workers to Thailand this year when an agreement overhauling the two nations' guest worker programmes goes into effect in June.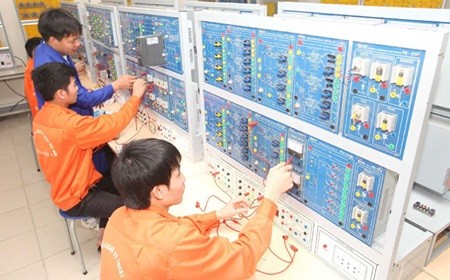 Workers take a vocational course on electricity for labour export at Viet Nam-Germany Vocational College in central Nghe An Province. Workers will be sent to Thailand when an agreement on guest labour takes effect in June. — VNA/VNS Photo Anh Tuan
Deputy Minister of Labour, Invalids and Social Affairs Nguyen Thanh Hoa said officials from the two countries discussed allowing Vietnamese workers to register at labour centres in Thailand for one-year work permits.
Hoa said there is a lot of demand for construction and fishery workers in Thailand. Employers can hire Vietnamese workers under two- to three-year contracts.
"In terms of wages, Vietnamese workers will be treated the same as local workers, which means they'll make about US$500 per month in rural areas and US$1,000 in urban areas," he said.
Thai officials estimated that somewhere between 50,000 and 100,000 Vietnamese came to Thailand as tourists and stayed in the country illegally after their visas expired.
Thailand had been cracking down on illegal workers in the country recently, so it was in every immigrant's interest to register, Hoa said. Thailand had started strengthening its surveillance, and illegal Vietnamese workers would face serious penalties if caught.
Officials were expecting to wrap up negotiations this month so the labour export agreement could be signed in May or June, Hoa said.
According to the Department of Overseas Labour under the Ministry of Labour, Invalids and Social Affairs, in the first two months of this year more than 17,000 Vietnamese labourers have been sent to work abroad, an increase of 23.5 per cent on the year.