Viet Nam office rental rates for all classes would go down, starting in 2009, according to a report by the world leading realty services firm Cushman & Wakefield.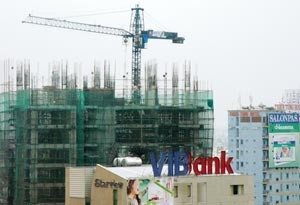 An office building is under construction in Ho Chi Minh City (Photo: Minh Tuong)
The U.S. company's Office Space Across the World 2008 report ranks the most expensive locations across the world in which to occupy office space. Viet Nam now stands seventh in the Asia-Pacific region and 17th in the world.
This report's main focus is on prime office rental performance and occupancy costs across the globe in the twelve months to December 2007 and the outlook for 2008. The report also provides a brief country overview for all the countries analyzed.
The report says supply of new offices of all classes in Viet Nam will increase rapidly, starting next year, thus pulling down the rental rates. Therefore, the rates would become reasonable in a balanced market.
Cushman & Wakefield presented the study at a ceremony held February 29 to open its Viet Nam first office in Ho Chi Minh City. It is the firm's 30th office in Asia-Pacific and the 221st worldwide. The company plans to open another office in Ha Noi.