Vietnam Post Corporation or VNPost has received the Prime minister's approval to contribute capital to the Lien Viet Joint Stock Commercial Bank (Lien Viet Bank) by the value of its subsidiary Vietnam Postal Saving Service Company (VPSC) as capital contribution and giving cash.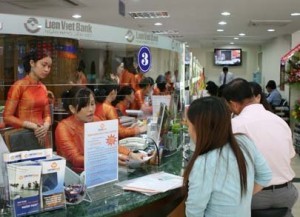 Customers transact at a branch of LienVietBank. (Photo:LienVietBank)
After the merger, Lien Viet Bank will change its name to Lien Viet Post Commercial Joint Stock Bank.
The Lien Viet Post Commercial Joint Stock Bank will be allowed to open branches of Vietnam Postal Savings Service for Lien Viet Bank to receive the capital.
The ministry of finance will offer guidance on calculating VPSC value and clear other financial issues. 

The VNPost will invest around VND810 billion (US$40.5 million) in the Lien Viet Bank.

Lien Viet Bank was established in 2008 by three institutional founders, namely Him Lam Corp., Saigon Trading Group (Satra) and Southern Airport Services Company.