After the inauguration ceremony of two factories owned by Japan's Nidec Corporation in Ho Chi Minh City's Hi-tech Park yesterday, another step toward US$1 billion worth of investment in the region, Nidec President Shigenobu Nagamori gave an interview to the Sai Gon Giai Phong.
Reporter: You were worried about complex administrative procedures in Viet Nam when deciding to increase the capital invested in the Saigon Hi-tech Park to US$1 billion over one year ago. It seems like you are still worrying now. Is that the case?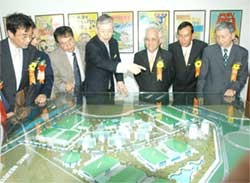 Nidec president Shigenobu Nagamori (4th R) introduces models of Nidec factories which will be built at the Saigon Hi-tech Park to Le Hoang Quan (3rd R), chairman of the People's Committee of Ho Chi Minh City
Mr. Shigenobu:
The Nidec Corporation Viet Nam and Nidec Sankyo factories came into operation six months later than scheduled due to delays caused by bureaucratic red tape.
Viet Nam has to work harder to streamline administrative procedures if they want foreign investment in this country to continue to expand.

For example, I was held up at the airport for 25 minutes while passing through customs despite the fact that I have VIP status. That just wouldn't happen in China or other Asian countries.
You should remember that investors are like visitors from far-off places bearing suitcases full of money to your house. If you don't welcome them heartily and make them wait in front of your door under the sun, they will get tired and leave.

You introduced HCM City's potential to Nidec and other strategic partners and assisted their investment in the city. Was that because you viewed the city as a promising investment environment or do you just have a special connection with Viet Nam and HCMC?

To be honest, I wasn't terribly impressed by Viet Nam before. I ran a small factory in the Tan Thuan Export Processing Zone over 10 years ago. At that time, administrative procedures were very complicated in the country, so much so that I gave up on any intentions to expand investment in there.

That all changed however, when Nguyen Minh Triet, who was the Secretary of the HCMC municipal Party Committee at that time, visited my factory in Kyoto. I explained to him the reasons why I hadn't continued to invest in HCMC, emphasizing the difficulties I had experienced due to the tedious administrative procedures in place at that time.

I was surprised to find that he was so interested in what I had to say. A short time after the meeting, all of the issues that I had raised with him were effectively solved. The response that I received from him was the main reason behind a change of heart on my part and why I decided to expand my investment in Viet Nam.

Nidec presently has factories in many Asian countries. We also have the similar problems in those countries like in Viet Nam. However, with the same investment conditions, we will choose a place where there is a good and sincere human relation.

We have chosen Viet Nam also because Vietnamese people are diligent, creative and hard-learning; and Vietnamese authorities are ready to listen to foreign investors and cooperate to solve their problems.

Nidec is planning to build totally five factories by 2010 in the US$1-billion Saigon Hi-tech Park project. What factories will be constructed after Nidec Corporation Viet Nam and Nidec Sankyo?

Not only five but 10 factories will be set up in Viet Nam if the cooperation between the two sides are smooth this time.

After the two factories' operation, if Viet Nam's procedures relating to production and selling the factories' products are stable and reasonable, products can meet the market's requirements, and customs procedure is performed rapidly to help the products approach the market soon, we will consider the construction of other factories.

Though the two newly-built factories are hi-tech, they are just at a low level. We want to soon transfer higher level hi-tech to Viet Nam through factories constructed later.

We are always ready, but whether the US$1-billion project will be carried out according to the plan by 2010 or not, it depends on attempts from the two sides.

In the plan, Nidec will send many Vietnamese engineers and technical managers to Japan for management and operation training. It will be the largest technology transfer in Viet Nam's hi-tech sector. What do you think?

We want to transfer hi-tech techniques to Viet Nam by providing training to Vietnamese workers, engineers and managers. Our training can ensure their abilities to operate and manage Nidec's technology best when they return the country.

For us, training local employees is most important in investment.

When Viet Nam wants to attract foreign investment, it shouldn't care only about the amount of investment capital, the number of Vietnamese laborers employed by foreign companies, but it should highly pay attention to technical and technological qualifications which they bring to Viet Nam and are important for the country's economic development.

Only foreign investors who invest their money and transfer technology to Viet Nam are really essential for the country's economy. If you can't realize to make a good choice, you might encounter many difficulties in the future.
Nidec Corporation Viet Nam has an initial investment capital of US$35.5 million, which will increase to US$100 million in the second phase, while the Nidec Sankyo's capital is US$15 million and US$50 million respectively.

The two factories, specializing in manufacturing high-tech products, are now employing some 8,000 workers and the figure will reach to 20,000 when they operate in full capacity.

According to Nidec President Shigenobu Nagamori, after the inauguration of the first two Nidec's factories, the leading Japanese mechanics and high-tech corporation expects to build three or four new factories by 2010 in the 33-hectare high-tech park.

On this occasion, the corporation handed over US$225,000 for equipping the park's high-tech laboratory.