Corncobs, straw, hulls, sawdust and other agricultural and industrial byproducts normally thrown away can turn out to be export products which earn millions of dollars annually for producers.
Some companies are finding ways to earn money from seemingly useless byproducts such as corncobs, straw, bagasse, hulls, or sawdust by exporting them to other countries. As the saying goes, "many a little makes a mickle." Numerous companies have earned millions of dollars from such materials.
Hunting sawdust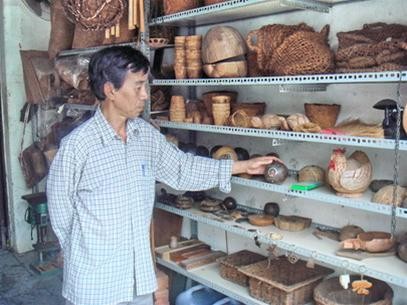 Kim Boi fine arts and handicrafts Co. Ltd in Ho Chi Minh City takes full advantage of products from coconut trees to  earn VND6.7 billion (US$400,000) in sales from these products in 2007
For a long time, straw was been considered an agricultural waste. Most farmers burned it after harvesting rice. Only a little is used as feed, fuel, or material to grow mushrooms.
Then the Long An Agricultural Produce Wrapping Joint-Stock Company turned straw into a decorative material for export, earning hundreds of thousands of dollars every year.
Since the beginning of this year, they have sold twenty 40-foot containers of straw products to Japan and Taiwan for a US$300,000, according to Mr. Pham Van To, the company's director. "There was a sharp increase in demand for Vietnamese straw products," he added. "The company will export about 30 containers by the end of the year."
For 2008, the company expects to earn revenue of US$700,000 from this export. The farmers who sell straw to the company also benefit.
Sawdust is usually disposed. But it is actually quite sought after nowadays.
Each month VIETgo Joint-Stock Company receives approximately twenty offers from foreign customers looking for Vietnamese partners to provide sawdust, said Mr. Nguyen Tuan Viet, the director company, which has been exporting sawdust for the past two years.
As an energy source, sawdust is now 'hot'. In developed countries, sawdust is compressed into wood pellets for fireplaces, boilers, or even in thermo-electric plants since these pellets possess an energy value as high as coal.
At the moment, most sawdust exporting companies collect sawdust from wood making and processing units and then give it preliminary treatment before selling it to foreign customers. It is estimated that a company earns a profit of VND5 million (US$300) to VND8 million (US$480) for a container. A company in District 8 has recently bought in a wood pellet production line.
Using wood pellets saves 30 percent of fuel cost compared to using coal, said Mr. Nguyen Anh Tuan, the director of the company in District 8. Burning wood pellets creates less pollution than burning coal, so it is the favorite in European countries and other developed countries. According to some export companies, ten times as much profit can be earned exporting wood pellets compared to raw sawdust.
The new 'gold-mine'

Every year, millions of tons of rice are harvested. This produces a huge amount of hulls. Most of the hulls are now used as normal fuel with quite low performance. Farmers in some parts of the country even pour them into rivers, causing pollution.
According to some energy experts, pellets from hulls would provide a higher energy value than sawdust pellets, which are very popular in the world market now. With an abundant supply of hulls, Viet Nam possesses an opportunity to export a large quantity of hulls.
Mr Tuan's company has been successful in compressing hulls into pellets like. From technical analysis, these pellets give very satisfactory results. Compared with coal, using wood pellets is 30 percent cheaper, but using hull pellets is 40-50 percent cheaper.
After that success, Mr. Tuan submitted a plan to introduce the product to European customers and as a first step. He received six contracts for samples. He will invest in a factory to produce hull pellets in the Mekong delta – the nation's granary as well as its hull barn. He is submitting a plan to sell this product to thermoelectric plants, he said. "I hope that Vietnamese hull pellets will be accepted in European thermoelectric plants."


In 2007, Viet Nam harvested 36 million tons of rice, 17.4 million tons of sugarcane, 4.1 million tons of corn. An estimated 50 tons of agricultural waste was created.
Much is wasted. In Viet Nam, lots of agriculture byproducts are wasted, according to Mr. Nguyen Anh Tuan. In the world market, corncob is sold for US$100 per ton. Hull pellets are sold for a high price and ash is sold to steel mills for nearly US$100 per ton. In addition, various agricultural byproducts are not correctly evaluated in Viet Nam.