A website on investment license procedures in Viet Nam will be launched this month to facilitate the work of domestic and foreign investors.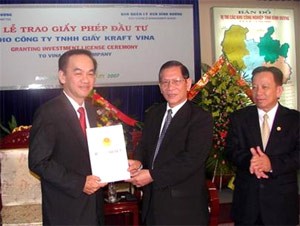 Chairman of Binh Duong Province People's Committee Nguyen Hoang Son (C) hands over investment license to Chaovalit Ekabut, CEO of SCG Siam Cement Group
The website, http://vietnam.investway.info, is part of E-regulations Viet Nam project, which was announced in Ha Noi today.
The project, with financial and technical assistance from the Government of Luxembourg and the United Nations Conference on Trade and Development (UNCTAD), has been carried out by the Ministry of Planning and Investment (MPI).
The website will provide investors, domestic and foreign alike, with information, in both the Vietnamese and English languages, on procedures to establish enterprises, sign business cooperation contracts and land rent, as well as fees.
Since the second quarter of this year, the website has been built up to contain full investment information in Ha Noi and industrial zones in the city's neighborhoods.
It will be updated with information on investment license procedures in the southern economic hub of Ho Chi Minh City and the central region's locomotive of Da Nang.
UNCTAD Secretary-General Supachai Panitchpakdi said the project is expected to help increase the transparency of and simplify business procedures in Viet Nam , thus helping the country in luring more foreign investment.
He also said UNCTAD is willing to support Ha Noi, Ho Chi Minh City , Da Nang and other localities in establishing their e-regulations systems for domestic and foreign investors.
Phan Huu Thang, Director of the MPI's Department for Foreign Investment, said Viet Nam prioritizes the increase of transparency and the simplification of licensing procedures in its strategy to attract foreign investment.
He went on to say that the website not only supplies specific and useful information but also helps increase the transparency of public services' operations.
In another development, the MPI and the Agency for Small and Medium Enterprise Development (ASMED) launched a website at http://www.business.gov.vn in February to provide information on procedures and policies assisting SMEs.
Statistics released by the Department for Foreign Investment showed that since the Law on Foreign Investment took effect in 1988, Viet Nam attracted more than 7,300 projects, capitalized at around US$70 billion.
The country is expected to lure a record US$19 billion in foreign investment this year, nearly US$9 billion higher than 2006.