Decision No. 38/2006/QD-TTg of the PM providing regulations on organization and operation of Phu Quoc Island and Nam An Thoi Peninsula in southern province of Kien Giang has just gone into effect. The regulations comprise of nine chapters and 32 articles, detailing series of preferential policies on investment projects on Phu Quoc Island.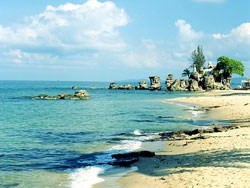 The number of investment projects on Phu Quoc Island has increased considerably. (Photo: T.C.)
Director of the Tourism Department of Kien Giang province Le Minh Hoang said: Tourism investment and business projects on Phu Quoc Island must belong to sectors and industry of priority. For investment projects, foreign and local organizations or individuals will enjoy corporate income tax of 10%. The tax rate will be set throughout the time of project implementation. The State reduces 50% of personal income tax for high income earners (Vietnamese and foreigners). Investors are exempted from import tax on the first shipment of imports which are to be used as fixed assets in the project implementation.
Specially, the State exempts import tax for imported fuel, raw materials and materials which are not produced in the country to used in construction and operation of BOT (building-operating-transferring) projects.
Also, the Government applies the single-price policy to goods, services and land rents for foreign and domestic organizations, individuals who are doing business on Phu Quoc Island.
Is there a customs duty free area on the Island?
Mr.Le Minh Hoang: According to the Statute, there will be. The customs duty free area is defined in a detailed planning, relating to An Thoi Port and Phu Quoc Airport. This area is separated from surrounding areas by a barrier, and there is no residential area around it.
Activities of the customs duty free area consist of production, outwork, reprocessing, assembling imported and exported goods, assembling on-site used goods, goods trading, services and trade promotion.
Exchanging goods and services between the customs duty free area and foreign partners, and among economic organizations in the area are considered as relations among overseas companies, thus companies do not need to go through customs clearance procedures.
Foreign ships can directly come into An Thoi Port to pick commodities without exit and entry procedures for people. Only ships have to be registered at buoy No.0.
What will the Government focus on in terms of investment to develop Phu Quoc into Tourism Island from now till 2010?
Mr. Le Minh Hoang: Priorities will be given to some of important projects in terms of central budget funding (including ODA - official development assistance - capital and Government bond). The projects include Phu Quoc Airport, Ports of An Thoi, Duong Dong, Vinh Dam; upgrading and constructing main roads on the Island (North-South transislandish routes and island detours), and some other infrastructure projects (water system, electricity system and waste treatment).
Phu Quoc Island

Location: Phu Quoc Island lies in the Gulf of Thailand, 45 km from Ha Tien and 15 km south of the coast of Cambodia.

Characteristics: Phu Quoc, the largest island in Vietnam, part of Kien Giang Province, is also part of an archipelago consisting of 22 islands of all sizes. The island covers an area of 585 km2 and is 50km long.

The population underwent a sudden increase in the last twenty years; there are 55,000 people inhabiting the island now whereas there were no more than 5,000 people in 1975.

Phu Quoc is also called the Emerald Island because of its natural treasures and infinite tourism potential. The island is well known for its high-quality fish sauce; Phu Quoc fish sauce smells particularly good since it is made from a small fish, ca com, with a high level of protein. The island produces 6 million liters of fish sauce every year.

Phu Quoc Island has many harbors such as An Thoi and Hon Thom where international and domestic ships anchor. Also, there are several historical sites on the island: National Hero Nguyen Trung Truc's military base, Gia Long King relics from the time he spent on the island, and Phu Quoc Prison.

Off the coast of the island emerges a group of 105 islands of all sizes. Some of them are densely inhabited such as Hon Tre and Kien Hai, 25 km from Rach Gia. Visitors can spend time on the beach or hike while observing the wild animals.

Source: vietnam-tourism.com