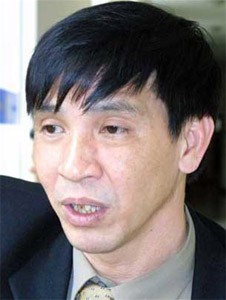 Mr. Truong Chi Trung, deputy Minister of Finance
Five months ago the Vietnamese government overturned a long-held prohibition against importing used cars. To date the pre-loved imports have been selling poorly, no doubt owing to the massive import tax imposed on them and their high retail price in consequence. We caught up with Truong Chi Trung, Deputy Minister of Finance, to find out more.
Mr. Truong Chi Trung: The government's decision to change from forbidding to allowing the import of used cars was part of the negotiations for joining the World Trade Organization.
One hope was that importing used cars would force the joint-venture automakers in Viet Nam to cut their prices, and this would have a positive impact on the local auto market.
Reporter: But used cars are subject to a maximum import tax of 600 percent, so their retail prices have to be high to compensate, in fact too high to worry the local car makers.
Mr. Truong Chi Trung: It's not exactly 600 percent. By my calculations, the absolute tariff, which is a fixed amount regardless of the commercial value declared by importers, is 300 percent so as to prevent a massive influx of used cars.
In fact, three tariff rates are levied on cars made in Viet Nam: an import tax on auto components from abroad, a special consumption tax and a value-added tax. In effect, the same three taxes are levied on imported used cars, but the absolute tax replaces the import tax.
It is claimed that imported used cars cannot compete with locally made vehicles because of the protectionist policies of the government. What is your opinion?
The tax on cars assembled by joint ventures in Viet Nam has dropped from 300 percent in 2003 to about 70 percent this year. That is a big drop, if I may say. And it will plunge to the horizon when Viet Nam joins the WTO.
So ultimately, anyone who wants to buy a car is in for major disappointment as an imported used vehicle cannot compete with a locally made car?
An imported used car costs between 70 and 80 percent of a made-in-Viet Nam car, so I think it has had just a light impact on the local automobile market.
When will Vietnamese people be able to buy a car at a reasonable price?
The price of automobiles in Viet Nam will gradually fall after Viet Nam joins the WTO and meets its commitments for the ASEAN Free Trade Area.
Related articles:
No Newly-Imported Used Cars Seen in Ho Chi Minh City
First Bank to Provide Loan for Buyers of Imported Used Cars
Tariff on Imported Used Cars to Be Promulgated
Foreign Used Cars Hunted by Vietnamese
Guidelines on Importing Used Cars
Individuals Can Import Used Cars 
Used Car Purchase