Franchising has been present in Europe for hundreds of years but is quite new in Viet Nam. Foreign experts describe this licensed trading as a heaven for retail enterprises. Many international retailers are forecast to tap the Vietnamese market with franchising.
Franchising, an irreversible trend
Viet Nam is untapped potential market with socio-political stability, a highly literate population, a young population – 70% of the population are under 30 – and increasing purchasing power, says Mr. Terry Ghani, director of TGA Malaysia, a marketing expert in Malaysia. Therefore, the country is good for franchising, believes Ghani.
Ms. Vu Kim Hanh, director of the Ho Chi Minh City Investment and Trade Promotion Center (ITPC), says US leading retailer Wall-Mart's representatives have met with ITPC to prepare for their investment in Viet Nam via franchising.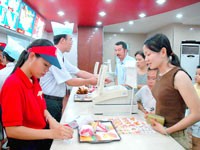 At a Lotteria fast food shop in Ho Chi Minh City. Lotteria is a sucessfully franchised brand (Photo: Cao Thang)
Mr. Luke Kim, director of Singapore firm A.S Louken, says owners of successful franchising brands in Singapore are looking at Viet Nam. The brands include Charles & Keith, and Chapter 2 shoes, and fast food chains Break Talk and Cavana. Viet Nam is more suitable than ever for franchising.
Viet Nam now has nine businesses conducting franchising. The three local enterprises are Trung Nguyen Coffee, Kinh Do Corp. and Pho 24 (which sells Pho – Vietnamese noodle soup), and the six foreign franchise brokers are Bourbon Group, Metro Cash & Carry, Lotteria, KFC, Medicare and Parkson.
Trung Nguyen Coffee Brand Building manager Ngo Han Dan says franchising is an irreversible trend for companies to develop in the globalization . This year, three or four Vietnamese companies will become franchisers.
Lessons from Pho 24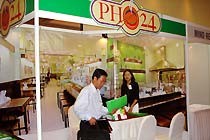 A Pho 24 shop in Ho Chi Minh City
ITPC has recently organized a seminar for Vietnamese businessmen to learn more about franchising, and many participants said they did not know how to go about it. A representative of the Co.op Mart supermarket chain asked whether the chain could take part in franchising – partly or totally – and how to make it. Mr. Ly Quy Trung, managing director of An Nam Group and Pho 24, a successful franchiser, said the supermarket chain is capable of becoming a franchise holder.
According to lessons from Pho 24, the brand set four requirements for its franchisees: full trust in the Pho 24 business model, understanding the local market well, sound management and administration, and financial capability.
At present, Pho 24 has 19 Pho (Vietnamese noodle) shops in Viet Nam and one in Indonesia's Jakarta capital. Eight of them are franchisees. The franchising price is US$7,000 in Viet Nam and US$12,000 overseas. Besides, the franchisees have to pay to the Pho 24 owner 3% of the total revenue. Pho 24 expects to increase the total of its franchisees in Viet Nam to 50 this year, and be present in Singapore, Malaysia, the Philippines and Australia.
Franchising has been present in Europe for hundreds of years and in Asia for 30 years, but it is quite new in Viet Nam. Analysts say this business will expand strongly in the next few years, urging Vietnamese companies to gear up for the trend if they do not want to miss the boat.