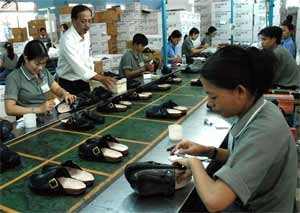 Women make shoes in Viet Nam
The Vietnam Women's Union has written to the European Union's trade commissioner Peter Mandelson to call for the European Commission's goodwill in the EU anti-dumping case against shoes with upper leathers from Viet Nam.
Representing more than 13 million members, the union called on EC to show fairness in the case to maintain EU good images in the heart of the Vietnamese people.
The union's letter to the trade commissioner says, "Losses from the EU ruling will considerably reduce the quality of lives for women working in the footwear industry, as well as their families and children. The case will also hinder development and social progress programs that the EU has been supporting in Viet Nam."
EU anti-dumping investigation into the Vietnamese footwear industry in the past few months has adverse affected the sector. The number of orders to local manufacturers dropped considerably in the last quarter of 2005, and foreign traders are now adopting a wait-and-see position towards the EC ruling. Even worse, some foreign shoemakers are considering closing their factories in Viet Nam and moving to other regional countries. 
Related story: /Business/Economy/2006/2/45491/