Van Phong Transshipment Port in Khanh Hoa Province is expected help boosting economic development of the central region and Central Highlands but construction of the container port is slow.
Almost two years ago, a big groundbreaking ceremony for the port project took place in Van Ninh District, pining hope on making the place a transshipment hub for Vietnam. However, the current picture there is like a sleeping child.
Inside the construction side are just some seasonal workers painting steel imported to that place for a long time to prevent rusting. A worker says construction has been delayed for almost one year.

At the end of the construction, close to the waters, is a large stake driving machine next to thousands of metal and concrete stakes. A lobster farmer says he has not seen workers in that area of the construction site for months.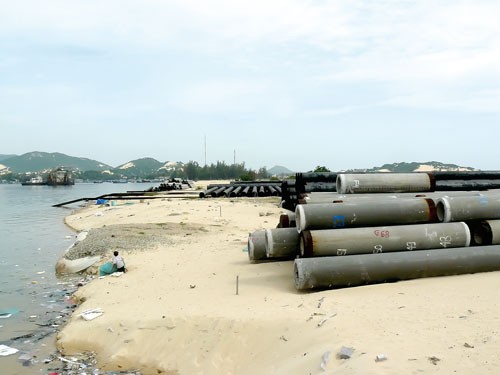 Concrete and metal stakes seen inside the construction side of the Van Phong Port Project (Photo: Van Ngoc)
Work on the transshipment port project was launched on October 31, 2010 with Vinalines being the project owner. There would be four stages and it would cost US$3.6 billion in all to develop the project, which is set for completion in 2020. It is designed to have 42 wharfs to be able to handle more than 200 million tons of goods a year, and able to accommodate container ships of up to 18,000 TEU.
Phase one was set for completion in Oct. 2011. Now is year 2012 already but construction looks like from the beginning.
Explaining that, Mr. Nguyen Ngoc Quy, director of Vinalines' Marine Transportation Project Management Unit 1 says, "Changes in design are a reason but a lack of capital is also another reason. Vinalines had earlier planned to delay construction for 6 months, but with the lack of capital and some geological reasons, Vinalines plans to resume work in July this year."
According to engineer Doan Manh Dung, vice president and general secretary of the Ho Chi Minh City Association for Marine Science and Technology, many suggestions made for construction technology applied for the project were that they should use a modern technology widely used in the world to build wharfs. This technology has been applied for the building of Cai Lan Port in the northern province of Quang Ninh. However, the suggestions were ignored.
Van Phong is Vietnam's only international transshipment project but work has been delayed. According to Vinalines, the original design has been out of date and it is waiting for new design.
In a related development, Transport Minister Dinh La Thang, at a recent working trip to Khanh Hoa Province's leaders, admitted that Vinalines was not capable for such a big project like Van Phong Transshipment Port. The minister said he had asked Vinalines to call for foreign investors to join, and to complete design changes for the initial phase by March this year.