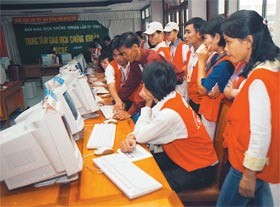 The event will help laborers get close to businesses (Photo:MH)
One of the biggest events for job-hunters, "Youth and Career 2006", will be held in the Ho Chi Minh City (HCMC) Labor and Cultural Palace (55B Nguyen Thi Minh Khai Street, District 1), scheduled from March 9 to 12, 2006.
The event is designed to bridge the gap between businesses and job-seekers, to expand the training activity of vocational schools and to help ease the severe shortage of labor.
The event will attract the attendance of over 100 vocational schools and facilities, and around 100,000 job-seekers.
As many as 80 stands will be available for schools to introduce and present their training activities, admission requirements and vocational guidance. The remaining booths, around 20, will be places for investors to hold job interviews.
The major purpose of this event is to encourage training contracts between enterprises and schools.
For more information, please contact:

- The Ho Chi Minh City Education and Training Department located in 70 Le Thanh Ton Street, District 1.
- The Laborer Newspaper based in 127 Vo Van Tan Street, District 3.