Twelve cellists of the Berlin Philharmonic from Germany will travel to Ho Chi Minh City for a performance at the municipal Opera House on July 11.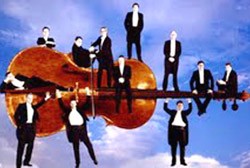 The 12 cellists of the Berlin Philharmonic
"Innovation, brilliance and humorousness," describe the versatile style of the 12 Cellists of the Berlin Philharmonic.
Whether they are playing classics, jazz, tango or avant-garde, listeners are invariably fascinated by the wide range of unique and intoxicating timbres that these twelve cellos can produce, and their mixture of seriousness and humor, depth and lightness, appeals to audiences of all ages.
More than one hundred contemporary composers have created works especially for the group.
The group first took stage on Easter Monday in 1974 at the Salzburg Mozarteum. Since that occasion, the group has astonished the world with the rare sounds and the tonal combination that this group of cellos has produced for the last 37 years.
They have accompanied the German president as ambassadors of Berlin and appeared on several occasions at the Japanese Imperial Palace. Their CDs regularly make the charts and in 2001 and 2005 were awarded the "Echo Klassik" prize.
The "12" previously gave a concert at Hanoi Opera House on July 10. That show and the one tonight in HCMC are part of activities marking the "Germany in Vietnam 2010" event.
Free tickets are available at the Goethe-Institute 335/4 Dien Bien Phu Street, District 3 in HCMC.