The immortal melody of 'Messa di Goloria', by the Italian composer Puccini, once again will be revived in a classical concert at the Opera House, district 1, February 19.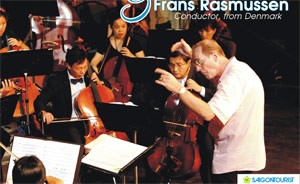 Frans Rasmussen will join hands with HBSO Choir and International Choir (Photo: Courtesy of HSBO)

The concert is held by the Ho Chi Minh City Ballet Symphony Orchestra and Opera (HBSO).
The Danish conductor Frans Rasmussen will lead the HBSO Choir and International Choir, with support from the chorus master Tran Nhat Minh.
The first part of the concert will give its breath to three works: 'Ouveture De Freischutz' by the German composer Carl Maria Friedrich Ernst von Weber, the 'Ngoc trai do' ('Red Pearl') Suite and a variation on the themes of Haydn by another German composer, Brahms.
The second part of the concert will focus on Puccini's Messa di Gloaria, previously known as Messa or Messa a Quattro. This is a Mass composed for an orchestra and four-part choir with tenor and baritone soloists. Strictly speaking, the piece is a full Mass, not a true Messa di Gloria, which contains only the Kyrie and Gloria and omits the Credo, Sanctus, Benedictus and Agnus Dei.

Tickets are on sale at Opera House Box Office: VND200,000 ($11) – VND150,000 ($9) – VND100,000 ($6).
Booking is available on the hotline: (+848) 3832 2009 or (+848) 6270 4450.