The 19th annual Charming Viet Nam (Duyen Dang Viet Nam) show, Thanh Nien newspaper's fundraising musical and fashion show, is be held at the Hoa Binh Theater, January 3-6.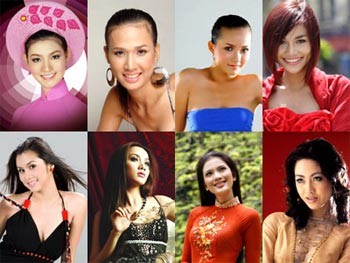 Top models will take part in the 19th annual Duyen Dang Viet Nam show. (Photo: TNO)
The usual suspects from the local scene are to perform, Ta Minh Tam, Thanh Lam, My Linh, My Tam, Phuong Thanh, Dam Vinh Hung, Quang Dung, Ha Anh Tuan, Phuong Linh, Anh Khoa, Ho Ngoc Ha, Nguyen Thao, Duc Tuan, the Five Dong Ke girl band and others.

Joining them will be more than 30 of the country's top models who will parade in the designs of famous Vietnamese fashion designers including Angel Phan from Thai Tuan Textile and Garment Co., Ltd, Lien Huong, Thuan Viet, Ngo Thai Uyên and Cong Tri.

The music and fashion show, entitled "Streets", is to be directed by Huynh Phuc Dien, Dinh Anh Dung and musician Le Quang and remind audiences of the evolution of ancient streets in wartime into the modern streets of today.

The tickets are available at the Thanh Nien newspaper office and Hoa Binh Theater, for VND100,000-750,000 (US$6-46) each.

Charming Viet Nam was launched in 1990 to finance the Nguyen Thai Binh Scholarship Fund for children of poor families.