A total of 154 silk paintings are on display for the first time at the Viet Nam Fine Arts Museum in Ha Noi from 20 December to 5 January 2008. These paintings feature portrayals of Vietnamese people and their daily activities.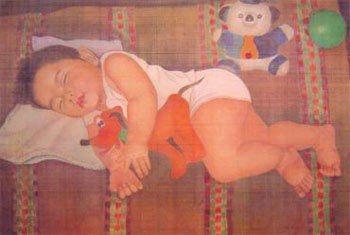 A silk painting themed Em be ngu (Seeping child) by Nguyen Thi Mong Bich (Photo:Vnex)
The collection was selected from approximately 600 works by 320 painters from 45 cities and provinces across the country and all were entries of the national silk painting contest launched six months ago.
"Due to the complexities of this art, silk painting necessitates artists who have extraordinary creativity and skills and hence over the years the art has gradually lost the interest of its audience. This exhibition aims to make the industry prosper and mark the first step of the campaign to rejuvenate silk artwork and foster a love of the silk painting among young people" announced Vi Kien Thanh, deputy director of the Ministry of Culture, Sports and Tourism's Fine Arts and Photography Department.
Painter Nguyen Phan Chanh (1892-1984), pioneered Vietnamese modern silk painting in the 1930s. Art lovers have long been familiar with his series consisting of Choi O An Quan (Children at Play), Xem Boi (Fortune Told) and Vo Gao (Rice Washing), which established him in both the domestic and international art worlds.
The Dong Son Today Fund awarded 17 prizes worth VND3 million each to the best painters at the opening ceremony of the display. For everyone interested, a seminar on Vietnamese silk painting will be held on 25 December.