After the Tet holidays, a lot of singers, such as Hong Nhung, Quang Dung, My Le, Thu Minh, Doan Trang, Duc Tuan, Thanh Thao, Nhu Y and Uyen Trang, have said they will organize live shows in 2009.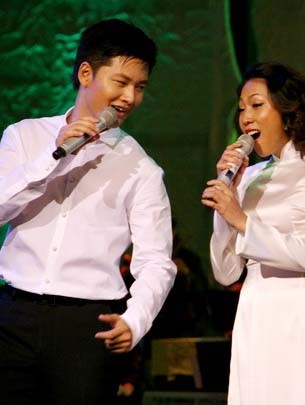 Duc Tuan and Thanh Thuy duet together. Performing on small stages and choosing suitable friends to perform with are first choices when organizing a live show this year. (Photo: Tuoi Tre)
Beginning a series of mini shows this year is Uyen Trang, the popular singer of the Mekong Delta, at 126 Stage in Ho Chi Minh City on February 13. A Trinh music live show, fronted by Hong Nhung and Quang Dung, will begin at the restaurant On the Six in Dong Khoi Street on February 18 in front of an audience of one hundred.
This year, singer Thanh Thao, or 'Doll', will celebrate her birthday and 15 years of her career on March 8 at 126 Stage. My Le will also mark her return after four years of taking care of her two children on March 8 with her live show, 'My Le in Symphony,' at the warm and luxurious atmosphere of Sai Gon Opera House.
Vietnam, maybe alone in the world, has organized numerous live shows costing billions of dong without attention to loss or gains. In the world, singers rarely claim that "in spite of loss, the live show must be imposing."
Consider last year, with the favor of sponsors combined with the dreams of singers, Vietnamese music stars spent a lot of money on their live shows. Expenditure was too high, caused mainly by excessive decoration of the stage, dancers and costumes. Audiences spent millions of dong to buy tickets just to enjoy the atmosphere, so they have become cautious with these shows.
Economic difficulties have caused many audiences to stay at home and watch them on TV instead. In practical terms, many shows are sponsored so that audiences do not need to buy tickets but audience numbers are still not large.
Sponsors do not regret spending money but are wary of making bad investments. Many have become afraid of investing in spectacular live shows. Many singers have had to cancel or delay organizing live shows because they could not find sponsors.
Mini show – an indispensable trend
Mini shows are considered an indispensable trend in the economic recession. Viewers have become bored with large music shows that just focus on the form. Even leading international singers only organize imposing live shows once every few years. What remains are medium and small music nights in tea-rooms or medium theatres in leisure centers but still reap large profits.
Celine Dion is typical, in March 2003, this diva began a contract to perform five years continuously at Caesar's Palace in Las Vegas. Although it was not a large program or involved going around the world, millions of people went to the show to enjoy her singing with 717 performances. Organizers made a profit of $400 million and Celine Dion was paid $250 million.
Duc Tuan is one of the new generation of singers. He chooses a certain music portal and tests his music with small shows in tea-rooms. Although, these shows were just at tea-rooms, such as Đôi mắt người sơn tây (Eyes of Son Tay Girl) and Đêm nhạc Phạm (Pham music night) in 2005 and 2006, they helped Tuan thoughtfully prefer and invest in his stage act and orchestra.
Tuan did not invite stars to attract audiences but chose suitable singing voices with him to perform. Thanks to these small musical performances, Tuan has a constant and reliable audience, which helped him to perform on larger stages in 2007.
At present, a sponsor has agreed to invest in his live show, however, he still choose Sai Gon Opera House to perform.
"The music lineup I have chosen is not suitable to ostentatiously perform in a sporting event hall or stadium."
It is not only Tuan who has been impregnated with these thoughts and shows, many others are of the same belief. For example, Hong Nhung and Thu Minh were very successful with their shows, 'Như cánh vạc bay' (Like the Bittern's Swings Flying) and 'Thiên đàng' (the Heaven), in 2006 at the Sai Gon Opera House. Other shows, like 'Vì ta cần nhau' (Because We Need Each Other) by Quang Dung and Hong Nhung were also full in 2007.
Doan Trang and Ha Anh Tuan also created their impressive show 'Ngẫu hứng' (Impromptu) at the tea-room Không Tên (No Name) in 2008.
Many singers believe that this show's model will be warmly received by audiences.
Choosing small and tidy stages means singers are coming back to reality. "The limited number of seats helps each audience feel like a VIP", Hong Nhung said.
"We should not be dependent on sound, light and pictures too much […], the personality of each singer should be promoted at highest level", Doan Trang said.
With the previous show's model, singers pretended to sing and had few real fans outside of the internet. Music stages would come back to their right position, the singers are not jubilant but they can live well, thanks to the quality of shows brought about by performing in such venues.