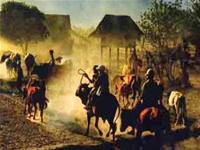 A winning photo by Le Tung Khanh in the 22th contest
Viet Nam Photographic Artist Association and Fine Arts Photography Department of Ministry of Culture and Information have just launched the 24th national arts photograph contest 2006.
It is the annual contest to choose the best photos for the awards and the national arts photograph exhibition.

The contest is themed "Pace of New Life", with the focus on social life reality in Viet Nam, reflection of the changes and achievements of economy, culture, society and defense security, and praise of the beauty of the country and people in the Doi Moi (reform) period.
An author can have a maximum of three contesting photos, taken in 2005 and 2006.
The exhibition will display 350-400 photos. The wining works are given certificates, and the authors will be admitted to Viet Nam Photographic Artist Association and offered the title of "Artist".
The exhibition and the award ceremony will take place in September 2006.