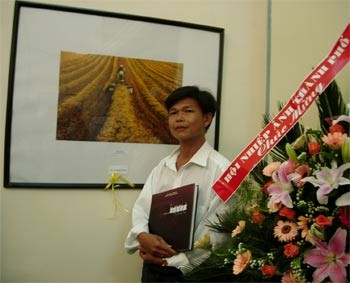 Photographer Hoang The Phuc and his first-prize work "Rice harvest" (Photo:KK)
The 24th National Photographic Exhibition 2006 has been opened at the Ho Chi Minh City Museum of Fine Arts. Showing from Oct 10 to 25, the exhibition includes 343 photographs from 256 photographers representing 52 cities and provinces that were chosen during the 24th National Photographic Contest 2006, which began in March.
To celebrate national holidays, the national photography contest and exhibition is held every two years in association with the Viet Nam Photographer's Association and the Fine Arts' Photography Department of the Ministry of Culture and Information.
This is an opportunity for photographers nationwide to introduce their best works to the public, develop specialized skills and exchange experiences. Each photographer can have a maximum of three competing photos.
The contest, themed "The Pace of New Life," focused on the many aspects of present life in Viet Nam. These include reflections on the changes and achievements in economy, culture, society and defense security, as well as issuing praise for the beauty of the country and people in the renewal period.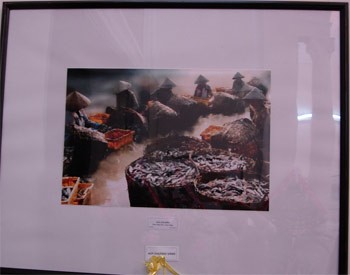 Present from the Sea by Pham Huu Tien (Photo:KK)
The photos were divided into two groupings; A class being for original photos and B class for photos corrected by Photoshop technology. The photos were chosen following separate criteria for each class.
The A class includes the winner of the VND10 million first prize, "Mua lua moi" (Rice harvest) by Hoang The Phuc, three second prizes (VND7 million/person), five third prizes (VND5 million/person) and 10 consolation prizes (VND1 million/person).
The B class includes one first prize of VND10 million, belonging to "Qua cua bien" (Present from the Sea) by Pham Huu Tien, along with one second prize of VND7 million, two third prizes (VND 5 million/person) and five consolation prizes (VND1 mllion/person).
The exhibition took place in Ha Noi this September to welcome the National Independence Day (September 2) and the success of the 10th Viet Nam Communist Party National Congress.