A press conference of Miss Vietnam Beauty Pageant 2014 was taken place in Ho Chi Minh City on November 3, aiming to announce list of 40 best candidates for the primary round of the southern region.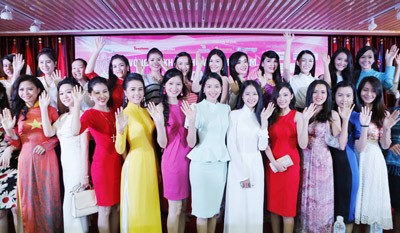 40 candidates were selected in the southern region's primary round (Photo: SGGP)
The southern region's primary round will be kicked off in Bac Lieu city from November 4-9. The candidates will perform Ao dai dress (Vietnamese traditional dress), bikini and gala event dress.
Through the contest, the candidates will have opportunity to experience the traditional cultural activities in the Mekong Delta like visiting Cao Van Lau Historical Site, learning about art of Don Ca Tai Tu, practicing the immortal song "Da co hoai lang" and other songs.
Many famous singers also take part in the event such as Tran Lap, Thuy Tien, Kyo York, Khanh Thi, Dan Truong and others
After the primary round in the southern region, the organizers will select top 20 best beautiful women to take part in the final round.
20 winners in southern region and 20 best candidates in northern region will attend in the final in Phu Quoc Island district starting November 23 to December 6.
The winner will receive VND 300 million and title of Miss Vietnam 2014. The first and second runners-up will receive cash prizes of VND150 million and VND100 million.