The Bong Sen Music and Dance Theatre and the Nhung Ngoi Sao Nho (Little Stars) troupe will perform "The Twinkle of Dancing Art", a show directed by Dang Hung, on Saturday August 12.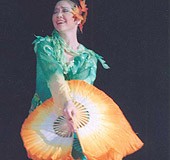 Ballet dancer Linh Nga
On stage will be more than 100 dancers, including such names as Vuong Linh, Thai Dat Minh, Phi Hung, Hoai Nga, Bach Van, Thu Tam, Trong Dung and former Little Star Linh Nga.

Nga is the daughter of ballet veterans Dang Hung and Vuong Linh and is currently studying at the Beijing Dance College. In fact, she won the special Taoli Cup award at the China Professional Dance Competition in 2004. She will perform in "Calling for Rain" and "A Glimpse of Viet Nam".

Her parents, along with Nguyen Kim Dung, former vice principal of the Ho Chi Minh City Dance School, are the force behind the Little Stars, who have scored remarkable successes in public and in competition.
Among these are the Golden Apricot from Nguoi Lao Dong newspaper in 2001, and appearances at the Festival of Hue in central Vietnam and the World Children's Festival in Japan in September 2004.

Besides traditional dances of Vietnam, Saturday's show will feature the dance arts of Thailand, China, India, the USA, Russia, Korea and other lands.