Photographer and musician Vo Thanh Tung is staging a "Traditional Music and Stage" exhibition of 99 photos taken over the past five years.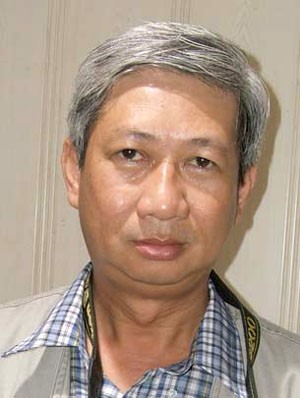 Artist photographer Vo Thanh Tung (Photo: Tuoi Tre)
The exhibition is unusual because it contains photographs and detailed notes about the subject matter, such as Vietnamese popular opera and gongs from the Tay Nguyen ethnic minority group.
Vo Thanh Tung's exhibition, which he calls his photo collection, is a personal look at Vietnam, from its Northern provinces to the Southern provinces.
The artist said he wanted to tell traditional Vietnamese art stories through the pictures. The exhibition has two parts - Vietnamese traditional folk music and dancing and Vietnamese traditional theater.
Tung has been studying music since he was 13 years old. He graduated from the Musical University with a guitar major, which he sometimes still teaches.
While teaching music in various provinces, he also spent time composing music and taking photos of many kinds of Vietnamese traditional art. He started to think more about Vietnamese traditional art photography while he was writing a piece of traditional music, "Nhac khi dan toc Viet" (Vietnamese musical instruments).
Tung was a wedding photographer for a while and also focused on nature photography for a period. But his real love has been capturing images of Vietnamese traditional theater, folk dancing and music.
Vo Thanh Tung's exhibition of Vietnamese traditional folk music and theater opened on Wednesday at Vietnam Photographic Artists' Association at 122 Suong Nguyet Anh in Ho Chi Minh City's District 1. The exhibition will run until December 29th.
Vo Thanh Tung was born 1957 in Ho Chi Minh City. He has a Master's of Arts in music arrangement and is a member of the Vietnam Photographic Artists' Association, the Ho Chi Minh City Music Association and the Vietnam Musicians' Association.