The annual Hung Kings' Temple Festival kicked off in the northern province of Phu Tho on April 5 (the sixth day of the third lunar month), beginning with two photo exhibitions.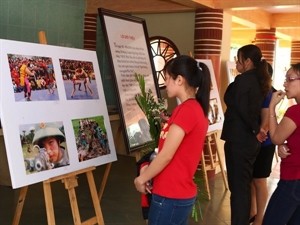 Visitors to the exhibition "Phu Tho's land and people" (Photo: VNA)
Displaying 108 pictures by the province's photographers, the exhibition "Phu Tho's land and people" is bringing visitors an insight into the traditional culture, festivals and relic sites of Vietnam's ancestral heartland.
Meanwhile, the worship of Hung Kings is also being introduced to visitors through 98 photos and objects. The worshipping ritual was honoured by UNESCO as Intangible Cultural Heritage of Humanity in December 2012.
The two exhibitions will last until April 9 and are expected to contribute to maintaining and promoting the province's cultural values.
On the day, art performances, firework display and sport activities, including volleyball, crossbow shooting and traditional wrestling, were also held to mark the festival.
The annual Hung Kings Temple Festival commemorates the 18 Hung Kings, the founders of the country and who started a golden age in Vietnamese history. Beginning as a local holiday, the ceremony was recognised as a national event in 2007.
The ceremony takes place over several days, but the 10th day of the third lunar month is considered the most important one. It demonstrates a strong desire for national prosperity and symbolises community spirit. Coming to the festival is a deeply rooted custom in the minds of Vietnamese people in and outside the country
The Hung Kings complex is located on Nghia Linh Mountain, Phong Chau district, about 100km northwest of Hanoi. It is a complex of ancient tombs, monuments and temples.-VNA