The effects of Agent Orange are explored in a recently opened photo exhibit, "Agent Orange: landscape, body, image," at the California Museum of Photography. The exhibition will remain open until August 29.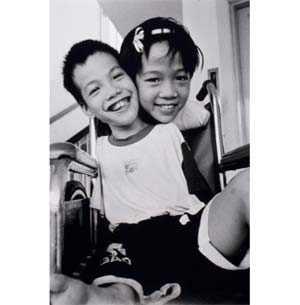 "Suffering and Smiles" by Doan Duc Minh on display at the photo exhibition (Photo: UCR)
The exhibition features photographs and installations by Japanese photographer Goro Nakamura and three Vietnamese photographers Dinh Quang Le, Doan Duc Minh and Binh Danh.

In the 1960s, Agent Orange was sprayed in Vietnam by US troops. It has caused damage on ecosystems and human health. There have been 1 million Vietnamese people have been contaminated with Agent Orange.
The artists explore, through images, the seen and unseen effects of dioxin.

A three-day conference, in association with the exhibit, has taken place over May 7-9. It will feature keynote presentations and a panel discussion with the artists, along with film screenings.

The event and exhibition are both organized by Professors Christina Schwenkel, David Biggs, and Lan Duong from the University of California Riverside.

The exhibition is sponsored by the University of California Pacific Rim Research Foundation, the Southeast Asia: Text, Ritual and Performance, Center for Ideas and Society, and the Department of Media and Cultural Studies.

Prof. Schwenkel said, "The conference is opened to collect discussions and ideas from different sides about Agent Orange. This is also a chance to share experiences to solve the dioxin issues."

The exhibition also welcomed a visit by Prof. Phung Tuu Boi and Ms.Ton Nu Thi Ninh, who is vice chairwoman of Vietnamese National Assembly's Committee for External Affairs and chairwoman of the U.S.-Vietnam Dialogue Group on Agent Orange/Dioxin.