American artist Arlene Shechet will visit Viet Nam from March 20 to 24, 2006 as part of the Art In Embassies Program funded by the US Department of State, the US Embassy announced on March 16, 2006.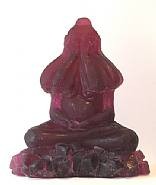 An artwork piece by Arlene Shechet
While in Hanoi, Ms. Arlene Shechet will give a lecture at the Hanoi Fine Arts College on her artwork and creative development, as well as American and global art trends. She will also meet with young contemporary artists in a seminar co-hosted by Dongson Today Foundation and Ryllega Gallery. She will also visit galleries and museums in Ha Noi and Ho Chi Minh City.
Under the ART In Embassies Program, works of art loaned by Arlene Shechet and five other American artists are exhibited at the US Ambassador's Residence on Tong Dan Street, Ha Noi. The central focus of Arlene Shechet's works is Buddhist thought and iconography.

Ms Shechet taught at the Rhode Island School of Design from 1978 to 1983 and was a faculty founding member at the Parsons School of Design, New York, from 1984 to 1995. She has been awarded three New York Foundation of the Arts Awards and one National Endowment Artist Fellowship. In 2004, she was the recipient of a John S. Guggenheim Fellowship Award. Her artworks are present in such public collections as the Albee Foundation, New York; Banff School of Fine Arts, Alberta, Canada; and the Brooklyn Museum, New York, among others.
Established by the US Department of State in 1964, the Art In Embassies Program is a global museum that exhibits original works of art by US citizens in the public rooms of about 180 American diplomatic residences worldwide.

Related links:
Shechet's Biography and Works
Art In Embassies Program
US Embassy in Ha Noi