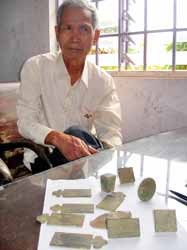 Gardener Tong Dinh Nam and the unearthed antiques
A terra-cotta vase of copper antiques, including rectangular, square and oval seals and cards, was discovered by a man called Tong Dinh Nam in the An Hung Commune of Cam Lo Town in the Central province of Quang Tri on December 18.
Nam discovered the antiques while gardening. It is believed the seals, carved with Chinese characters, were once used by dynastic lords.
Quang Tri Provincial Museum Deputy Director Nguyen Duc Tho said the artifacts will soon be appraised to determine their specific dating, history and authenticity.