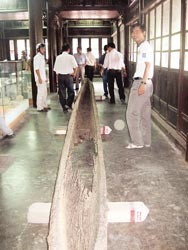 The ancient boat
An ancient wooden boat retrieved from the Huong River in May has been sent to Thua Thien-Hue Province's Museum of Revolutionary History.
The boat, which is 8.5m long and 0.5m wide, is believed to be used during the reign of King Gia Long more than 100 years ago, said researcher Ho Vinh.
Researcher Ho Tan Phan claimed that it was built by the Cham ethnic group 700-800 years ago.
The antique will be displayed at Di Luan Duong House in the museum for the public viewing, preservation and study, said Mr. Van Dinh Thanh, director of the Thua Thien-Hue Museum of Revolutionary History.