Mr. and Mrs. Smith have officially sent documents to the Ministry of Justice for the adoption of a Vietnamese boy at the Tam Binh Orphanage in Ho Chi Minh City. The application is actually in Ms. Jolie's name only though, because Hollywood's hottest couple hasn't got a marriage certificate yet.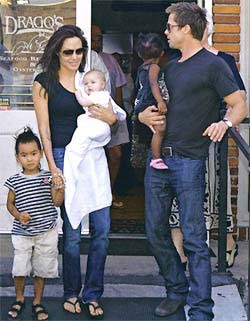 Angelina and Brad Pitt together with their children
"Her documents will be considered just like any other American person who wants to adopt children from Viet Nam. It will be about four months before they can take the child home" said Vu Duc Long, Head of the Ministry of Justice's International Foster-child Department.
"The couple wants to adopt a child between 3 and 4 years of age. We are very happy to learn of their wishes and hope they will receive permission from local authorities regarding the adoption." Mr. Nguyen Van Trung, director of the Tam Binh orphanage, said.
The film superstars spent their Thanksgiving holidays in Ho Chi Minh City last November and made a visit to the orphanage.
Ms. Jolie then made a surprise return to the city in January alone to take part in a meeting of the International Association of Financial Cooperation which supports projects in the Mekong's sub-regions. It was assumed at the time that she was also in town to carry out procedures related to adopting a Vietnamese child from the orphanage.
Related articles:
Mr & Mrs Smith to Adopt a Vietnamese Boy?
Mrs. Smith Unexpectedly Returns Viet Nam
Mr. & Mrs. Smith go to…Ho Chi Minh City