The Vietnam-Republic of Korea Animation Festival opens on October 9 in Hanoi, bringing networking opportunities to fledgling filmmakers and free screenings of award-winning films to the public.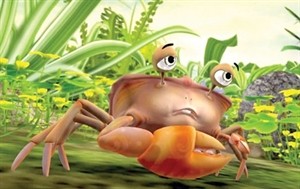 Vietnamese and Korean animation films Cang To Cang Be (Big Pincer Small Pincer) will be shown at the animation festival held by the Korean Cultural Centre in Hanoi (File photo)
Held by the Korean Cultural Centre, the three-day festival will allow members of the Vietnamese and Republic of Korea's animation industries to exchange information and animated art.
The award-winning Korean films to be screened are Cloud Bread, Pororo The Little Penguin, Hello Jadoo!, Little Bus Tayo and The Airport Diary. Vietnamese animators will show works called Ve Vang va De Lua (Yellow Cicada and Fire Cricket), Chiec Long Cong (Peafowl's Feather), Duoi Cua Than Lan (Lizard's Tale), Cang To Cang Be (Big Pincer Small Pincer), Bo Vang (Yellow Cow) and Vu Dieu Anh Sang (Light Dance).
"This is the first time the Korean Cultural Centre has held an animated film festival," said Park Nark-jong, the centre's director. "It is a new kind of cultural exchange between the two countries."
The festival is aimed at helping Vietnam develop its film-making industry, and helping local filmmakers network with their Korean colleagues.
About 200 film producers and entrepreneurs in the animation industry will hold seminars. Experts from both countries will review the development of the industry, sharing experiences and best practices for creating animated films.
"I hope the festival will promote the animation industry, as well as cooperation in the countries' creative industries," Nark-jong said. "In addition, the event will refresh a wave of Korean television series and pop music in Vietnam."
The Au Co Art Centre, 8 Huynh Thuc Khang street, will screen 12 films from the two countries for free at 3pm, 5pm and 7pm on October 10-11 and 9am on October 11.