After a 4-month excavation at the area for the worship of three Refuges (Buddha, Dharma, and Sangha) of Dau pagoda in Thuong Tin District, the northern province of Ha Tay, a famous national historic and cultural site, archaeologists from Viet Nam's History Museum and Ha Tay Information and Culture Department have discovered nearly 200 antique items with high cultural value.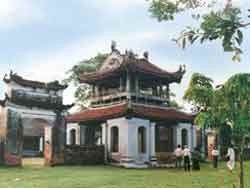 Dau pagoda, where the antiques are excavated
Antiques include architectural materials with different types of brick, tile, edging, statues of animals, pottery and porcelain wares.
The striking features of the collection are bricks with sophisticated designs in the shape of dragon, mouse, lotus and other supernatural animals made in the Tran Dynasty in the 13th – 14th century and the Mac Dynasty in the 16th century.
The bricks made of mixture of terra-cotta with other strange impurities were used for building foundation.
In addition, the excavated potter antiques were made of different kinds of enamels with designs of flowers and landscape, showing the development of Vietnamese pottery skill in the 16th-17th century.
According to archaeologists, the discovery of antiques has contributed to the Dau pagoda's cultural and historic values and significance to Viet Nam's belief and religion in general and residents in the Red River basin.
At present, excavated ancient wares are preserved at Ha Tay Museum and will be displayed later.