A large scale "Ao Dai" theatre complex is in the making and with it, the promise of a must-see destination in HCMC for foreign visitors and Vietnamese alike, according to the fashion designer Si Hoang, mastermind of the project.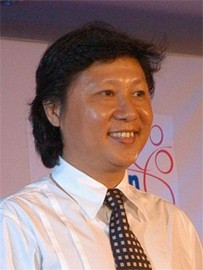 Fashion designer Si Hoang
Construction of the new facility will include a library of Vietnamese culture, a conference hall, a cinema and a museum where traditional Vietnamese clothes and folk instruments will be displayed.
It is believed that if visitors are given time to acquaint themselves with the  objects in the museum beforehand, it will provide them with the background they need to appreciate traditional music and dance on a deeper level when they take in a show in the theatre itself.
The theatre complex will feature modern audio and lighting equipment and will be built on a 3 hectare lot with the intent of expanding to 10 hectares later on. To produce an atmosphere reflecting Vietnamese character and soul, it will be encircled by a forest of bamboo.

Building designs will bear the influence of Vietnamese architecture, in particular that of Duyet Thi Duong, a Royal theatre in the Hue Imperial Citadel.
                      Si Hoang's Ao dai
In order to test the feasibility of undertaking a project of this scope, Si Hoang experimented with a smaller scale version of the idea by opening Diem Mot Thoi (One-Time Point), a Vietnamese-style tea shop which draws a great number of foreign tourists as well as local artists and businessmen in the Ho Chi Minh City area.

The facility allows people to learn about Vietnamese culture by tasting indigenous blends of tea, enjoying a fashion show or listening to nightly concerts of traditional folk music.  

According to Si Hoang, the Ao dai (traditional Vietnamese long dress) will be elevated to the level of an art work in the theater.

"Ao dai is an evolution of art and application. It is a work of art as well as a functional entity representing Vietnamese culture. The Ao dai is not only a source of inspiration for fashion, but also poetry, painting, music and movies. Even though creativity and audacity are essential elements in modern fashion design, they have an appropriate time and place. Throughout the course of its history, the nature of the Ao dai has changed continuously but it is important that its conception should always embrace its traditional appearance and character." Hoang said.