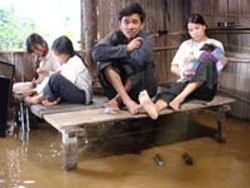 A file photo shows daybed scence, Quoc Khanh and Truong Ngoc Anh star in the movie Ao Lua Ha Dong.
The Vietnamese film "
Ao Lua Ha Dong
" (Ha Dong silk dress) has won the Audience Award at the 11th Pusan International Film Festival in the Republic of Korea.
Directed by Luu Huynh and produced by Phuoc Sang Studio, BHD and the Anh Viet Company, the film tells about a poor Vietnamese couple in the 1960s.
Basically the story is about Dan and her hunchbacked husband and their attempt to hang on to a precious Ha Dong silk dress that belonged to Dan's mother.
"Ao Lua Ha Dong" includes accurate representations of Vietnamese people and respects the beauty of the traditional ao dai (widely known as the Vietnamese long dress).
Shooting the film in northern and central Viet Nam included recreating a flood for one scene.
"Ao Lua Ha Dong" is the first Vietnamese film to use the "flying-cam" technique, which was achieved through the help of American and Singaporean technicians.
According to the film's executive producer, Mr. Phuoc Sang, more than US$1 million was invested over five years of production – the biggest budget yet for a Vietnamese film.
The nine-day Korean festival, which opened on Friday, has attracted 245 entries from 63 countries. Two are from Viet Nam, the other being "Pao's Story".