Ha Noi will host an exhibition on the culture and history of Viet Nam and the other member countries of the Asia-Pacific Economic Cooperation forum from November 15 to 25.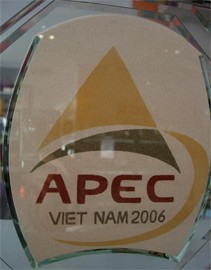 A sand-painting was made by artist Y Lan to welcome the APEC summit. (Photo:KK)
APEC 2006 Popularizing Posters and Cultural Heritage will introduce international visitors to a land of peace and age-old culture, says Dr. Tu Manh Luong, deputy head of the organizing committee.
Among the displays will be 15 prize-winning posters from the recent APEC 2006 Publicity Poster Contest along with photos, objects, documents and video discs about the APEC countries.
The Cultural Heritage section will be divided into six areas, all of which are about Viet Namese antiquities, fashion, pottery, tea culture, cultural heritage, cultural characteristics, and the history of Ha Noi, Hue and Sai Gon/Ho Chi Minh City.
The nearly 2,500 pieces of jewelry, pottery and sculptures in the antiquities section come mainly from the Phung Nguyen and Dong Son cultures of 3,000 years ago.
A concert of Nha Nhac (royal court music) and Highland gong beating, both of which are recognized by UNESCO as masterpieces of intangible cultural heritage, will be telecast live from the exhibition.