The APEC Film Festival 2006, one of the activities to welcome APEC meetings, was opened at the Le Do Theater, 46 Tran Phu Street in Da Nang City, to present 15 films, including 14 feature films and one cartoon of APEC member economies on Oct 11 to 18.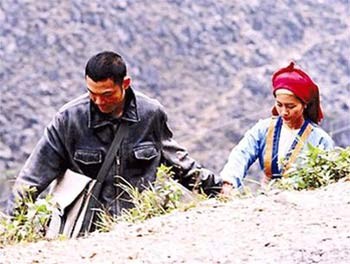 A scene in Chuyen cua Pao
Among them, there are films which won international prizes such as Korean film "Hello Brother" (Best actor award at the New Montreal International Film Festival 2005), Canadian "The fast runner" (Best First Feature at the 2001 Cannes Film Festival), Chinese "Blue Cha-Cha" (Best Original Film at the 2005 Taipei Golden Horse Awards), and Australian "Look both ways" (Discovery Award at the 2005 Toronto International Film Festival).
Vietnamese film Chuyen Cua Pao (Pao's story), directed by Quang Hai, was chosen to open the event.
Chuyen Cua Pao won Golden Kites at Viet Nam's national film festival in 2005 and was presented at the 16th Fukuoka International Film Festival on September 17, 20 and 23 in Japan. The film will also compete for the "Best Foreign Language Film of the Year" award of the Oscar 2007.