A lively and colorful mural depicting the cultural treasures of Argentina has been unveiled in Hanoi to welcome the capital city's 1,000th anniversary celebrations.
Artists Maria Teresa Bobbio, Christina Diaz and Sonja Vitulic worked with Vietnamese artists for three weeks to complete the 25-meter ceramic mural.
Located along the embankment under the Long Bien Bridge Pier, the 65 ceramic tiles illustrate idyllic Argentinean landscapes as well as the country's famous Tango dancers.
The ceramic tiles used in the mural came from Bat Trang, Vietnam's most famous handicraft village where some of Vietnam's most talented artisans ply their trade.
While the mural was under construction in Vietnam, Vietnamese artists also traveled to Rawson, the capital city of the southern province of Chubut, Argentina, where they made a mural for the city as a gift in celebration of the 200th anniversary of Argentina's May Revolution (May 25, 1810).
The picture, titled "New Era" and located at the Rawson capital city center in the city's administrative district, has historical and cultural themes, featuring images of Vietnam and Argentina including Vietnam's peach blossoms and Khue Van Cac (Pavilion of Literature), Ceibo flowers of Argentina, the Rawson City Church and a battleship.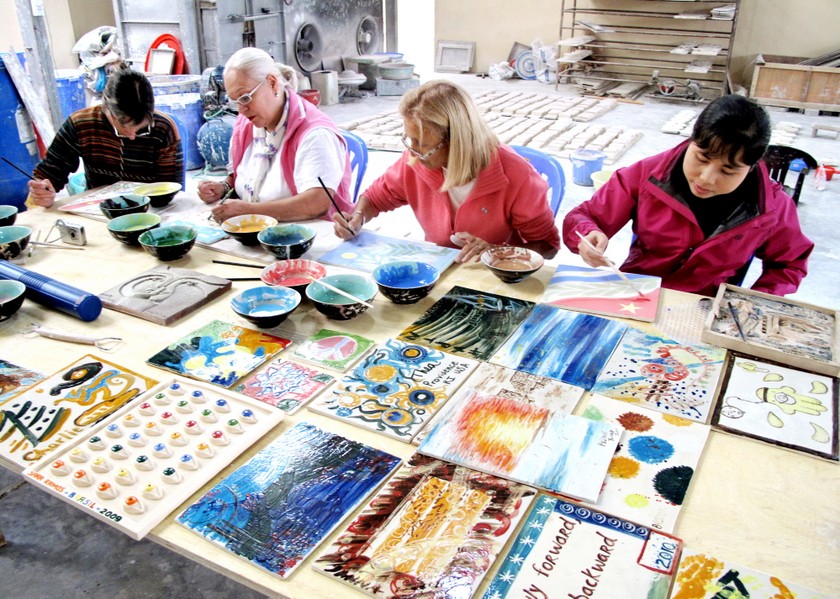 Three Argentinean artists and one Vietnamese work together on the ceramic mural in Hanoi (Photo:Mai An)