An art exhibition titled 'Iwasaki Chihiro and Vietnam' is being held at the Japan Foundation Center for Cultural Exchange in Vietnam in Hanoi to celebrate the 40th anniversary of diplomatic relations between Japan and Vietnam.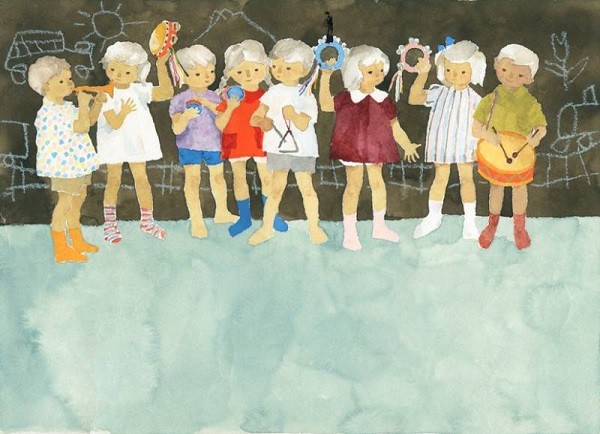 "Girl holding Gerberas" (1970) by Iwasaki Chihiro
The event introduces 40 selected artworks including 32 artworks which are presented in three main themes, namely, children, flowers and picture books.
A talk themed 'Chihiro, a painter connection-True love to peaceful, plentiful, beautiful and cute things' by Ms. Yuko Takesako, Deputy Director, Chihiro Art Museum Azumino, was organized at the opening ceremony.
The exhibition is expected to provide viewers a good opportunity to look back over their lives, through the world of Iwasaki Chihiro who loves 'plentiful, peaceful, beautiful and cute' things in her life.

Iwasaki Chihiro (1918-1974) is one of the most beloved Japanese artists/illustrators in the world, celebrated for her unique feathery expression combining an Eastern Indian-ink painting and a Western watercolor painting.

Chihiro, is believed could distinguish a 10-month baby and a 1-year-old baby skillfully in her paintings, and could draw any posture of a child without a model. Naturally, children in Chihiro's paintings are highly animated and deeply expressive, with plenty of inner emotions.

Children and flowers were Chihiro's major favorites to draw. She grew many kinds of flowers by herself in her garden and the flowers were seasonally flourishing all the year, being a source of her imagination.

Throughout her career, Chihiro wrote about 40 picture books including Japanese and Andersen's fairy tales, daily lives of children and babies, and especially 'Children in the Flames of War'--one of Chihiro's most important works in which she not only drew the illustrations but also wrote the texts. She painfully inspired from the Vietnam War.

As a human being who experienced a war, Chihiro was in her life anxious about children's happiness and peace, leaving behind the words in 1970s, 'May Vietnamese children, Japanese children and children all over the world live in peace and happiness.'

Born in Takefu, Fukui Prefecture, and moving to Tokyo later, she began to study sketching and oil painting at the age of 14 under Okada Saburosuke, and Japanese calligraphy when she was 18, under Oda Shuyo of the Fujiwara Kozei School.

Her first work for children was called 'Okasan no Hanashi' (The Story of a Mother) in 1950. Her first picture book, 'Hitori de Dekiru yo' [I Can Do it All by myself] was released in 1956.

She won many prizes, among them Graphic Prize Fiera di Bologna for 'Kotori no Kuru Hi' (The Pretty Bird) in 1971, and Bronze Medal of the Lepzig International Book Fair for 'Senka no Naka no Kodomo-tachi' [Children in the Flames of War] in 1974. In 1973 Chihiro was diagnosed with liver cancer, and died the following year at the age of 55.
The display is being co-organized by the Japan Foundation Center for Cultural Exchange in Vietnam, in cooperation with the Chihiro Art Museum and will run until October 27.