A Japanese contemporary art exhibition themed 'Yayoi Kusama- Obsessions' will be held at the Japan Foundation Center for Cultural Exchange in Hanoi from May 25-July 28 to mark Japan-Vietnam Friendship Year 2013.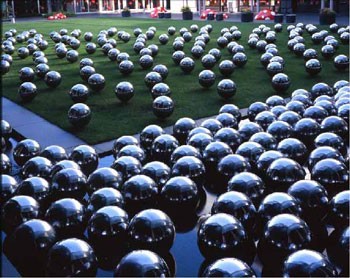 'Narcissus Garden' installation by Yayoi Kusama
Yayoi Kusama, a Japanese avant-garde sculptor, painter and novelist, received the National Lifetime Achievement Awards in 2006.
In her career as an artist, Kusama has worked with a variety of mediums, including painting, drawing, sculpture, films, performances and installations. Having continuously innovated and re-invented her style, Kusama's obsessive repetitions and patterns of dots have been widely celebrated and become her trademark.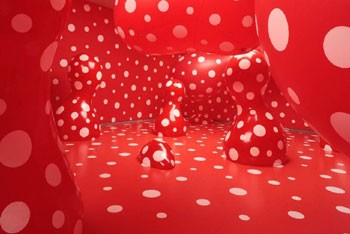 'Guidepost to New Space' by Yayoi Kusama
Kusama has received numerous awards including the Order of Arts and Letters in 2003 in France, the Order of the Rising Sun in 2006, the Premium Imperial in 2006 and has been recognized as the Person of Cultural Merit in 2006 in Japan.
She has had exhibitions in prestigious museums such as Museum of Modern Art in New York, Museum of Contemporary Art Tokyo, Centre Goerges Pompidou in Paris and Tate Modern in London.
The artist will present a variety of her famous immersive installations, such as the legendary installation called 'Narcissus Garden' with 1,500 silver balls, 9 huge objects with polka dots titled 'Guidepost to New Space', and art works themed 'Dots Obsession' and 'I'm Here, but Nothing'.