Three exhibitions featuring the works of female painters will be taking place in Ho Chi Minh City to celebrate International Women's Day on Thursday, March 8.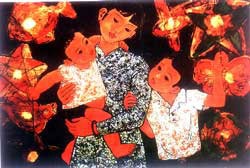 A lacquer painting in the display
An exhibition of 36 works by 10 different female artists will be on display at the Hac (Crane) Gallery, 273 Nam Ky Khoi Nghia St, District 3.
A second showcase of work featuring paintings and sculptures by both the teachers and students of the Ho Chi Minh City University of Fine Art will be exhibited at the University's gallery at 5 Phan Dang Luu St, Binh Thanh District.

All of the artworks on display are unique and possess their own individual beauty, provoking deep thought and stirring the emotions. The works vary, some use silk, others use oil, lacquer or acrylic.
The final exhibition, entitled Xuan Hoi Ngo (Spring Meeting), presents works by the Female Painters Club of the Ho Chi Minh City Association of Fine Art and the Ngan Ha Club of the Women's Cultural House. The Chairwomen of both clubs, Nguyen Thi Tam and Le Thi Kim, actively encourage and admit new members as well as maintain and develop a variety of fine art activities.

The display at the Ho Chi Minh City Association of Fine Art's gallery on 218 Pasteur St, District 3, promises to be eventful and colorful with several excellent paintings by both old and new members of both clubs.
The majorities of women involved in the clubs have family responsibilities and have to juggle housework with their passion for the Arts.

The women find time to take part in inspirational trips to the countryside etc. and hold fundraising exhibitions to enable them to maintain the activities of the clubs and continue with their passion for painting.