Like other Vietnamese people, Nguyen Minh, a painter in Bien Hoa city, the southern province of Dong Nai, has expressed his love and respect for General Vo Nguyen Giap in his own way.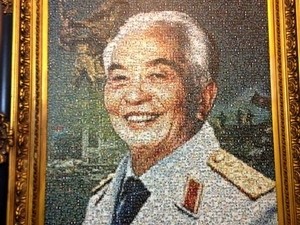 The General Giap's portrait by painter Nguyen Minh (Photo: VNA)
After spending years collecting 8,800 photos of the revered General, Minh put them together into General Giap's portrait, measuring 1.2 metres wide and 1.6 metres long.
"I have nurtured the dream of making a large portrait of the General for a long time. The portrait was finally completed after six months, starting from early 2011, right on the occasion of his 100 th birthday," the painter said.
According to Minh, he wandered through many exhibitions and libraries across the country and spent a lot of time surfing the internet to gather the photos, which are about 1-1.5sq.cm each.
Particularly, the portrait is seen as a book about General Giap's life, from his childhood to his revolutionary and diplomatic activities, and his old age.
The portrait is now hung near the late General's altar at his private house at 30 Hoang Dieu Street, Ba Dinh district, Hanoi.