More than 200 singers, musicians, music directors, make-up artists, fashion and hair designers will gather for a three-day charity event called Singer's Day in Phan Thiet next week.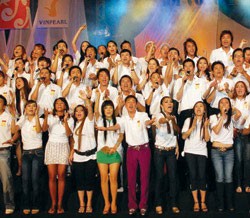 2007 Singer's Day in the coastal city of Nha Trang.
It will begin with a musical performance at the April 17 Theater in Tuy Phong District on December 8. The next day will see a forum on how to build a singer's image, a gala dinner, fashion show, and auction of gifts received by the artists.
On the last day the artists will call on people in the provincial center for Wounded Soldiers and Credited People, Blind Association, and School for Disadvantage Children and offer them gifts.
They will also take part in an environmental protection campaign on Ham Tien Beach and a concert themed "The Great Circle of Vietnam" at the Nguyen Tat Thanh Street square.
Started in 2006, the annual show will offer Vietnamese singers, musicians and choreographers to meet their peers from around the world.
Tickets cost VND50, 000 for each event and all the proceeds will be donated to disadvantaged families in the area.