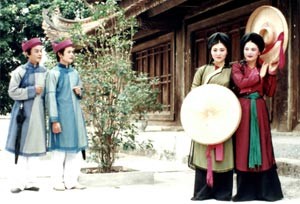 Afolk music performance of peope in northern Viet Nam
A music performance show will be staged to hundreds of ASEAN businesses at the Windsor Plaza on August 31.
The documentary on Viet Nam's top brand names will open the performance, giving the audiences a brief look at the growth of Viet Nam's market place in recent years.
Next, businesses and delegates will enjoy the traditional dance and music of ASEAN, looking at large collections of traditional costumes reflecting the cultural diversity of neighboring countries.
Even more, after the reception, Viet Nam will showcase to the foreign audience a large number of folk songs featuring the beauty of its people and culture, which hopes to help future investors and partners learn more about the country.