The grand final of the Asian Idol competition, a copy of the American Idol gig, featured idolatrous competitors from six Asian nations at the 7000-seat Arena PRJ Kemayoran, Jakarta, December 16.
Vietnam's Idol: Well done, try again.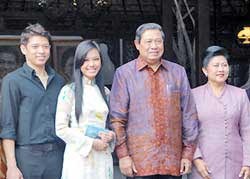 Singapore's Hady Mirza (L), singer Phuong Vy (C)and Indonesian President of , Dr Susilo Bambang Yuhoyono and his wife at the Asian Idol 2007.
Vietnamese viewers of the live Asian Idol performance on HTV9 were virtually stunned when the first Asian Idol music award went to Singaporean Hady Mirza, "supposedly a good looking man with an unusual voice", some quipped.
The result, however, did not apparently convince most local viewers who've said Hady Mirza didn't outshine the other five contestants, especially on the first day when Mirza wasn't seen as upstaging either India's Abhijeet Sawant or the Philippines' Mau in the least.
It must be understood, some have said, that in such online votes, Net-connected viewers can manipulate the results unpredictably.
Hady Mirza won the Singapore Idol with more than 1 million votes in 2006. He is a bar singer and soccer player. His style is mainly R&B. In November 2006, he released his first album "Hady Mirza" which went Platinum in only four days.
The result was also an apparent surprise to the board of judges, who included Anu Malik Indian Idol, Music Director in Hindi Bollywood, Siu Black, Viet Nam, Indra Lesman, Indonesian Idol, Jazz Musician, Paul Moss, Music Director - Malaysian Idol Judge, Pilita Corrales, folk singer,  Philippines Idol), Ken Lim, Music Director, Singaporean Idol Judge.
Could sweety Phuong Vy have bettered her go?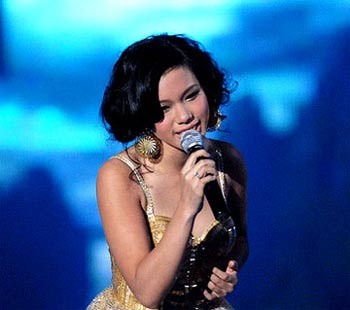 Vietnamese Idol 2007 Phuong Vy
The six Idol contestants were Jac Victor (Malaysia), Hady Mirza (Singapore), Phuong Vy (Viet Nam), Abhijeet Sawant (India), Mau Marcelo (Philippines) and Mike Mohede (Indonesia).
Phuong Vy performed a Vietnamese song, Luc Moi Yeu (Just Falling in Love) and an English song, River Deep, Mountain High, which quite impressed the judge and audience. Positive responses dominated her participation in the event's audience participation part, NC Radio Online, Asian Idol Extra, etc. "Her modest personality, cute face and good English skills" all shone through, some here said.
Her only weakness was apparently a lack of on-stage confidence. Had she sung as passionately during her official performance as she did on the competition's last night of ad-libbing with Vietnamese Idol judge Siu Black she might well have knocked them dead.
Some opinions were also proffered that Vy picked the wrong songs for her voice. Minh Khang, an overseas Vietnamese student in Indonesia said a lot of local people loved Phuong Vy and voted for her, but that those two songs seemed odd on her.