On this occasion, the library was named after its founder, Nguyen Huong Duong who suddenly passed away in April at the age of 47 in recognition of her outstanding contribution to the founding, maintaining and developing the library.

In November 2017, the library that is now known as Huong Duong Talking Book Library inaugurated its new building after three years of reconstruction.
The modern library covers on an area of 632 square meters at 18B Dinh Tien Hoang Street in District 1. It has 5 recording rooms, an audio book production studio, a computer training room, chess learning area and other facilities.
The audio books library has produced more than 2,300 talking books with nearly 500,000 copies that have been served for free over 100 branches of the Blind People Association and schools for the blind nationwide over the past 20 years. Its website has reached about 16.7 million visitors.
Besides, it has also provided computer training classes for people who are blind or visually impaired, and offered " Anh Sen" and "Huong Duong" scholarships.
Nguyen Huong Duong was the director of Audio Books for the Blind. She lost her two legs in a traffic accident when she was 25. However, Duong stepped out of the darkness and found a new life with volunteer activities.

The audio book library for the blind was born based on an idea by chance when she was at Nguyen Dinh Chieu School in Ho Chi Minh City to read books for blind children there in 1998. She recorded books on audio cassette tapes to tell stories to the blind.
The energetic woman dedicated her life to bring a brighter life to the blind. Duong is the first person to establish an audio library for the blind in Vietnam. She was awarded the Second Class Labor Order; Certificate of Merit from the Prime Minister.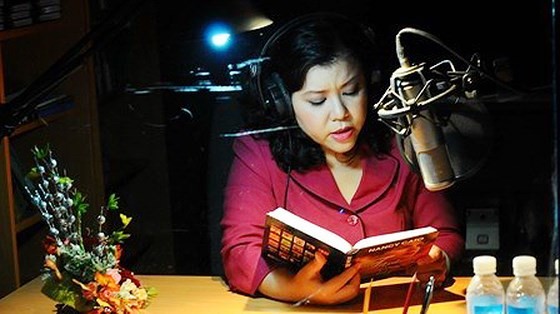 Ms. Nguyen Huong Duong, founder of Audio Books for the Blind